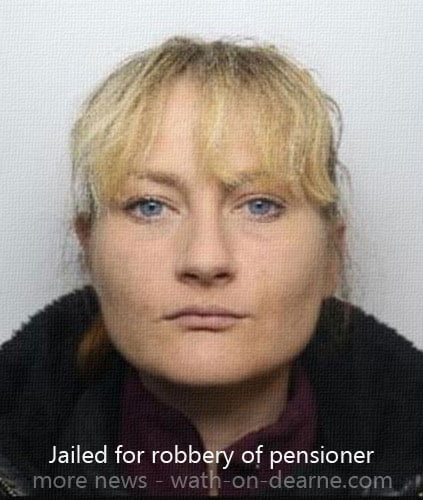 A remorseless assailant, who callously targeted a 94-year-old individual in their own home, has now been sentenced to a well-deserved 14-year imprisonment.
This despicable act of violence took place in the peaceful Hargreaves area of the city, where the elderly resident lived alone, making them an easy target for Amanda Hallows. With a deliberate intention, she forcefully entered the property, subjecting the innocent victim to a brutal assault using a wooden chair that rendered them unconscious.
The harrowing incident occurred on the morning of May 24th last year (2022) when the victim heard a loud knock at the door. Answering the call for help, they graciously offered Hallows a bottle of water, only to be met with escalating aggression as she demanded a glass instead. Hallows, displaying a complete disregard for the sanctity of someone's home, proceeded to forcefully push her way in.
In an act of sheer brutality, Hallows grabbed the victim's shoulder and eye, causing them to stumble and fall to the floor. Seizing a wooden chair, she viciously struck the defenceless resident's head, delivering a cruel threat to "finish" them if they dared to move. The victim, was overpowered and defenceless, and lost consciousness.
Upon regaining consciousness, the victim discovered their home in a state of utter chaos, having fallen victim to a thorough ransacking. They immediately called out for assistance, having sustained a severe laceration on their forehead that necessitated medical attention at the hospital.
During her rampage, Hallows shamelessly pilfered the victim's reading glasses, wallet containing bank cards, and various other personal belongings, including coins, leaving a trail of devastation and heartache in her wake.
Hallows, a 37-year-old resident of Tithe Barn Way, Sheffield, was subsequently identified and charged with robbery. She did not contest the charges, and on Thursday, the 15th of June, she received a just sentence of 14 years at Sheffield Crown Court.
This sentencing carries an especially poignant weight, as it coincides with the recent passing of Hallows' unfortunate victim. It is a tragic reminder of the profound impact this reprehensible act has had on their life.
Leading the investigation, Officer Stephanie Sales has expressed her commendation for the victim's bravery throughout this ordeal, as well as her heartfelt condolences to the grieving family. The victim's unwavering resilience and determination were evident as they fearlessly faced their attacker in court. Officer Sales would also like to extend her gratitude to the victim's support network, whose unwavering presence offered comfort and strength during this trying time.
Let it be known that Hallows' despicable conduct is utterly unacceptable and will not be tolerated within our community. Today's sentencing stands as a stark reminder that acts of violence and cruelty will be met with the full force of the law. Our society must remain resolute in safeguarding the vulnerable and ensuring that justice prevails.
A custody photo of Amanda Hallows, a white woman with piercing blue eyes and fair hair, depicts her unsmiling, clad in a black coat against a stark white background. It serves as a reminder of the face behind this heinous crime, a face that will now face the consequences of her actions.
Editor's Comment:
This heinous act of violence committed by Amanda Hallows serves as a stark reminder of the importance of safeguarding our vulnerable members of society.
The sentencing of 14 years is a step towards justice, but we must also reflect on the tragic passing of the victim, highlighting the devastating impact such crimes can have on individuals and their families. It is imperative that our community stands united against such callous behavior and ensures that it is not tolerated.
The custody photo of Amanda Hallows serves as a haunting visual representation of the face behind this appalling crime, urging us to remain vigilant and committed to upholding justice.