Unidentified Driver Leaves Victim Fighting for Life – Urgent Appeal for Information
In a chilling incident that unfolded in the quiet town of Wath-upon-Dearne earlier this month, a hit-and-run collision has left a young man, Joshua Lloyd, fighting for his life. As the investigation progresses, authorities are now seeking the assistance of the public in locating the prime suspect, Kallum Flowers, who has managed to elude capture despite numerous appeals for his whereabouts.
The image of Joshua Lloyd, released by his family (pictured right), serves as a poignant reminder of the devastating consequences of this heart-wrenching incident. While Joshua remains in critical condition, his loved ones have beseeched the media and the public to respect their privacy during this incredibly trying time, as they rally around their cherished family member in the hospital.
The Serious Collisions Unit, leading the investigation, has intensified their efforts by issuing yet another appeal for information pertaining to the location and movements of Kallum Flowers (picture below). Flowers, a 33-year-old individual, is being sought for questioning in connection with the hit-and-run collision that left Joshua Lloyd clinging to life. Despite the tireless efforts of law enforcement and repeated pleas made to the public, Flowers has managed to evade detection thus far.
Sergeant John Taylor, a key figure in the investigation, expressed his concerns: "It has been nearly three weeks since the collision occurred at the junction of Rotherham Road and Firth Road in Wath-upon-Dearne. Flowers is well aware of our desire to speak with him regarding his involvement in this tragic incident, and it appears that he is actively avoiding contact with our officers. We cannot dismiss the possibility that Flowers might be seeking refuge with acquaintances or confidants, but it is crucial to stress that anyone harbouring him may be held accountable for aiding and abetting a fugitive—a serious criminal offense."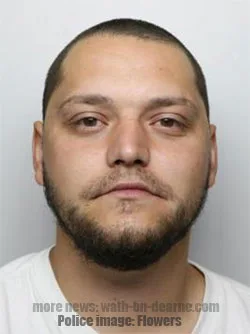 The implications of this incident are far-reaching, and the pain endured by Joshua Lloyd's family is unimaginable. They yearn for answers and seek a sense of closure by understanding the circumstances surrounding that fateful evening. Sergeant Taylor passionately implored potential witnesses to reflect on the gravity of the situation: "Consider, for a moment, how you would feel if this were your loved one lying in a hospital bed, his life hanging by a thread. If you possess any knowledge of Flowers' current or past whereabouts, I urge you to come forward and assist us in our pursuit of justice. Remember, you have the option to provide information anonymously through Crimestoppers."
South Yorkshire Police have made it easy to contribute valuable information, with multiple avenues available for contact. Those with pertinent details can reach out to the authorities online; engage in a webchat, or call 101, quoting incident number 1004 of 11 June 2023. For individuals who wish to offer information discreetly and confidentially, independent charity Crimestoppers provides an alternative. Their UK Contact Centre can be reached via freephone at 0800 555 111, or an online form can be completed at www.crimestoppers-uk.org.
In a society that prides itself on justice and solidarity, it is our collective responsibility to assist law enforcement in swiftly bringing individuals like Kallum Flowers to account for their actions. The pursuit of truth and the preservation of the well-being of our communities demand nothing less. Let us unite, driven by empathy and a commitment to the common good, as we strive to unravel the mysteries that shroud this tragic event and ensure that justice prevails.
Editor's Comment:
The heart-wrenching case of Joshua Lloyd, the young man left critically injured in a hit-and-run collision, continues to grip the attention of the public. As the investigation unfolds, it becomes increasingly apparent that the search for the prime suspect, Kallum Flowers, is reaching a critical stage. The added anguish faced by Joshua's family, who anxiously await answers, serves as a powerful reminder of the profound impact such incidents can have on individuals and communities.
Law enforcement's frustration at Flowers' continued evasion is palpable. Despite their concerted efforts and numerous appeals, Flowers has managed to slip through their grasp, raising questions about his whereabouts and the possibility of outside assistance. The urgency in Sergeant John Taylor's words is a reflection of the underlying plea for the community's vigilance and cooperation in bringing this fugitive to justice.
In the face of tragedy, it is essential to recognize the responsibility we all bear to uphold the values of justice and solidarity. This case serves as a stark reminder of the fragility of life and the profound consequences of reckless actions. By uniting in our determination to assist law enforcement, we can send a resounding message that hit-and-run incidents will not be tolerated in our society.
As the investigation continues, we implore anyone with information to step forward and contribute to the pursuit of truth. Whether it is through direct contact with the authorities or the anonymous channels provided by organizations like Crimestoppers, each individual's involvement can make a significant difference.
Let us stand together as a community, driven by compassion and a commitment to the well-being of others, as we strive to bring closure to Joshua Lloyd's family and ensure that justice is served.