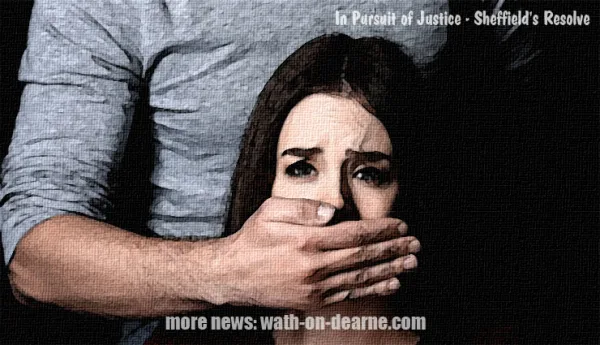 In the quest for justice and the pursuit of truth, authorities in Sheffield are urging the public's assistance in a harrowing sexual offences investigation. The incident in question, a reported rape that transpired in April of this year (2023) within a city centre property, has left the victim in a state of unimaginable pain and vulnerability. Regrettably, due to legal restrictions, the victim's identity cannot be disclosed, but their plea for justice resonates with us all.
Ever since this distressing incident came to light, dedicated detectives have been diligently working to unravel the intricacies of the case. Simultaneously, they have been offering unwavering support to the survivor, recognizing the crucial role empathy and solidarity play in their journey towards healing and reclaiming agency.
Today, the investigation takes a critical turn as the police have released a CCTV image, believing the depicted individual may possess vital information crucial to the case's resolution. The release of this image is a significant step forward, as it signals a collective call to action, urging the public's unwavering commitment to justice. It is an opportunity for us, as a community, to unite and stand against the horrors of sexual violence.
The photograph, captured at the scene, is now being shared in the hopes that it will reach the eyes of someone who recognizes the person portrayed. If you are that person, or if you have any information that can aid in the investigation, the authorities implore you to come forward. Your courage can be the turning point in this arduous journey towards truth, closure, and ultimately, justice.

To report any information, please consider utilizing one of the following channels: webchat, our user-friendly online portal, or by calling 101. Make sure to quote incident number 950 of 30 April 2023 when communicating with the police. You can access our online services conveniently at: https://smartcontact.southyorkshire.police.uk.
Let us remember that our shared humanity compels us to confront the darkest corners of society and bring light to those who have been grievously harmed. By joining forces and refusing to tolerate such acts of violence, we can make a resounding statement that sexual offences have no place in our community. Together, we can cultivate an environment where survivors find solace, healing, and the justice they so rightfully deserve.
Editor's Comment:
The recent sexual offences investigation in Sheffield is a stark reminder of the urgent need to address and combat the pervasive issue of sexual violence in our society. The heinous crime that took place within a city centre property is a distressing example of the vulnerability faced by countless individuals.
We commend the efforts of the dedicated detectives who have been tirelessly working to uncover the truth and provide support to the survivor. Their commitment to this case serves as a reminder that justice should never be compromised or delayed when it comes to sexual offences.
The release of the CCTV image is a crucial development in the investigation, as it seeks to engage the public's assistance in identifying a potential witness. It is a call for solidarity and collective responsibility to bring about the much-needed resolution in this case. By urging individuals to come forward with any information, the authorities are taking a proactive approach to unmasking the truth.
Sexual violence is a deeply traumatic experience that often leaves survivors feeling isolated and silenced. As a community, we must stand firmly against any form of sexual misconduct and ensure that survivors receive the support and justice they deserve. This requires a comprehensive approach, including awareness campaigns, education, and robust legal measures.
We encourage anyone with information relating to this case to reach out to the police through the provided channels. Your contribution could play a vital role in helping the investigation progress and in providing the survivor with a sense of closure.
It is disheartening that even in the 21st century, sexual offences continue to plague our society. However, by shedding light on these issues and working together, we can create an environment where survivors are heard, perpetrators are held accountable, and sexual violence becomes an intolerable relic of the past.
As an independent publication, we remain committed to raising awareness about sexual violence, advocating for justice, and fostering a culture of empathy, respect, and support for survivors. Together, let us strive for a society where every individual can live free from the fear of sexual assault.