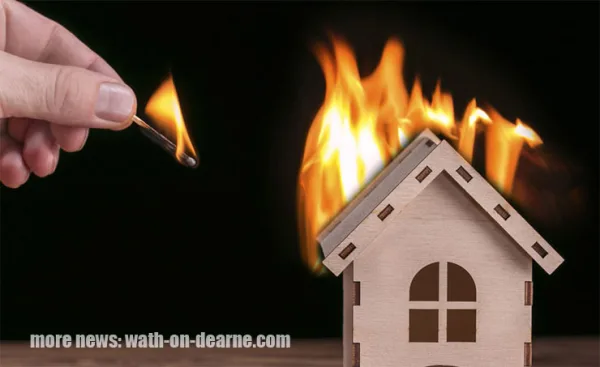 The Doncaster CID is making a fervent plea to the public, seeking their assistance in an ongoing investigation surrounding a suspected arson at a property in Balby. The incident, which took place in the early hours of yesterday morning, has raised concerns and instilled a sense of urgency in the local authorities.
At approximately 4.30am on Thursday, 29th June, emergency services rushed to Waverley Avenue, responding promptly to reports of a ground floor flat engulfed in flames. Preliminary investigations conducted at the scene have led officers to the disheartening conclusion that the fire was intentionally started, prompting them to treat the case as arson.
Thankfully, no individuals were inside the property during the incident, and there have been no reported injuries. However, the resulting fire has left its mark on the building, causing significant damage. As the authorities delve deeper into the matter, they are appealing to the residents of Balby and the surrounding areas to step forward with any information they may possess.
The Doncaster CID is particularly interested in hearing from individuals who might have witnessed the events or noticed anything suspicious transpiring between the hours of 4am and 5am on the morning in question. The smallest detail could prove to be crucial in piecing together the puzzle and identifying the culprits behind this senseless act.
If you believe you possess any relevant information, we implore you to come forward and assist in this investigation. There are multiple channels available to share your insights with the authorities. You can reach out to us online via our webchat service or by calling 101. When contacting us, kindly reference incident number 155, dated 29th June 2023.
For those who prefer to maintain their anonymity, rest assured that there is a secure option available. You can provide your information confidentially to the independent charity Crimestoppers. Their UK Contact Centre can be reached on the toll-free number 0800 555 111. Alternatively, you may choose to fill out a simple online form on the Crimestoppers website. Remember, your identity will remain concealed, allowing you to share any vital details without fear of reprisal.
We understand the importance of community collaboration in uncovering the truth. By joining forces, we can ensure that justice is served and that the perpetrators of this appalling act are held accountable for their actions. Let us stand united against such acts of destruction and send a clear message that our neighbourhoods will not tolerate criminal behaviour.
The Doncaster CID urges all residents to come forward and provide any information, no matter how insignificant it may seem. Together, we can shed light on this case and help restore peace and security to our beloved community.
Editor's Comment:
In times like these, when our communities are faced with acts of deliberate destruction, it becomes imperative for us to unite and stand against such criminal behaviour. The Doncaster CID's appeal for witnesses in the suspected arson case is a testament to their dedication in seeking justice and ensuring the safety of our neighbourhoods.
Arson not only inflicts physical damage but also shakes the sense of security within our community. By coming forward with any information, no matter how seemingly insignificant, we can contribute to unravelling the truth behind this incident and help prevent future acts of this nature.
It is heartening to see the authorities collaborating with independent organizations like Crimestoppers, providing avenues for anonymous reporting. This empowers individuals who may be hesitant to disclose their identities to still play a vital role in assisting the investigation.
Let us remember that our communities are stronger when we work together, supporting law enforcement efforts and promoting a safe environment for all. By answering the CID's call and providing any relevant information, we can demonstrate our resilience and determination to uphold justice.
We encourage all readers to remain vigilant and report any suspicious activities to the authorities promptly. Together, we can build a stronger, safer community for ourselves and future generations.