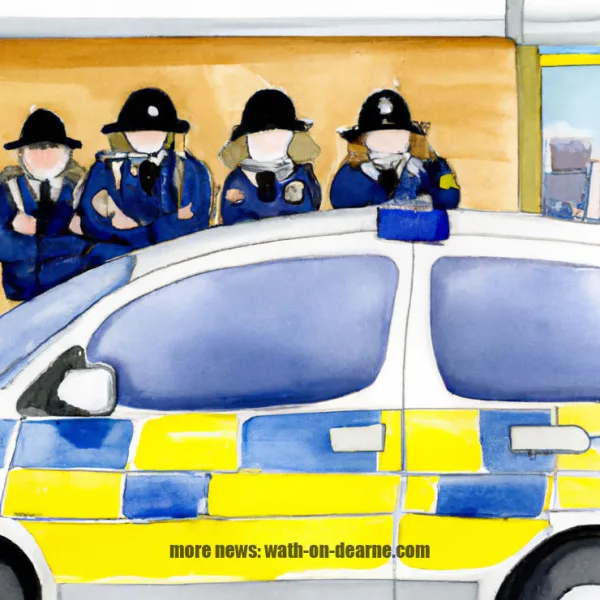 Increased Police Presence and Urgent Witness Appeal Following Shots Fired in Balby
Residents of St James' Garden in Balby woke up to a heightened police presence today as authorities investigate a disturbing incident involving the firing of shots at parked vehicles. The incident, which occurred yesterday evening at approximately 6:30 PM, has left the community on edge, although thankfully no injuries have been reported.
According to witnesses, two individuals dressed in dark clothing allegedly discharged firearms towards multiple cars on St James' Gardens, causing significant damage. Startlingly, these assailants, reportedly riding an electric bicycle, brazenly fled the scene after carrying out their reckless act of violence.
In response to this alarming incident, a cordoned-off area has been established on the street to facilitate a meticulous forensic examination and allow for comprehensive inquiries to be conducted. Detective Chief Inspector Tom Bright from Doncaster expressed the gravity of the situation, emphasizing the potential danger this incident posed to the Balby community. He stated, "This was a worrying incident that happened in broad daylight on a residential street, and it was only by luck that nobody was injured as a result of the suspects' actions. It's imperative that anyone with information about this incident comes forward, so we can identify those responsible."
Authorities are appealing to local residents and witnesses who may have noticed the suspects on their bicycle, either before or after the shots were fired, to provide any relevant information that could assist in their investigation. Additionally, individuals who possess video doorbell footage capturing the suspects or any related activity are urged to come forward and share it with the police.
If you have any information that may aid this ongoing investigation, please contact the authorities by dialling 101 and quoting incident number 422 of June 29, 2023. Those with CCTV or video doorbell footage can also support the investigation by emailing their recordings to enquiries@southyorks.pnn.police.uk, again citing the incident number in the email subject line.
For those who may prefer to remain anonymous, it is possible to provide information in confidence to the independent charity Crimestoppers. They operate a UK Contact Centre reachable via free phone at 0800 555 111, or you can submit information online through their website at www.crimestoppers-uk.org. Rest assured that your personal details will be treated with the utmost confidentiality.
The Balby community now finds itself confronted with a disquieting incident that has shattered the tranquillity of their residential streets. However, it is through the collective efforts of residents and law enforcement agencies that the perpetrators can be brought to justice and the sense of security restored.
Editor's comment:
It is deeply unsettling to hear of such an audacious act of violence in the quiet streets of Balby. The community's sense of security has been shattered, and urgent action is required to bring the perpetrators to justice. The increased police presence and the thorough investigation are crucial steps towards addressing this alarming incident.
The appeal for witnesses is of utmost importance, as the information they provide could be vital in identifying and apprehending those responsible. The police have rightly called upon residents who may have seen the suspects on their bicycle or captured any relevant footage to come forward. Their cooperation can play a pivotal role in solving this case.
It is commendable that Detective Chief Inspector Tom Bright has acknowledged the severity of the situation and the potential danger it poses to the Balby community. By emphasizing the need for public assistance and urging individuals to share any information they may have, he is actively engaging with the community and seeking their support in maintaining law and order.
The establishment of a cordon and the subsequent forensic examination demonstrate a meticulous approach to gathering evidence and uncovering crucial details that may lead to the identification of the perpetrators. These investigative efforts should be fully supported to ensure a thorough and effective inquiry.
Furthermore, the mention of Crimestoppers as an avenue for providing information anonymously is essential. It offers a means for individuals who may be hesitant to come forward to play a role in assisting the investigation without fear of reprisal. The protection of their identities and personal details is paramount, and Crimestoppers provides a trusted platform for this purpose.
It is our hope that the Balby community can find solace in the fact that law enforcement is actively addressing this alarming incident. By working together and sharing any pertinent information, we can help restore a sense of security and ensure that such acts of violence do not go unpunished.