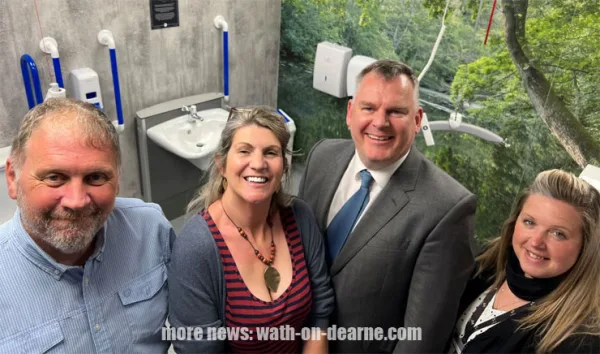 New Changing Places Facility Enhances Accessibility and Inclusivity
In a remarkable development for the inclusion and support of people with disabilities, a brand-new Changing Places facility has been unveiled at the renowned Magna Science Centre. This groundbreaking addition, made possible through securing nearly £500,000 in funding by Rotherham Council, signifies a significant step forward in accommodating individuals with complex care needs and their devoted carers.
Designed with meticulous attention to detail, the purpose-built Changing Places room caters specifically to disabled visitors and those living with learning disabilities, motor neurone disease, multiple sclerosis, cerebral palsy, and various other conditions. Fully compliant with the Disability Discrimination Act, this facility is equipped with essential features such as a height-adjustable changing table, hoist, sink, and toilet. Unlike standard disabled toilets, Changing Places rooms provide ample space for wheelchair access and accommodate carers, creating a secure and serene environment that empowers all visitors, irrespective of their disabilities, to relish their experience at this beloved attraction.
As part of the commitment to enhancing accessibility, Magna has also invested in automated doors, making it easier for wheelchair users to navigate the premises. This thoughtful investment ensures that every individual, regardless of physical ability, can enjoy all that Magna Science Centre has to offer.
Stuart Lee, Operations Director at Magna, expressed his enthusiasm, stating, "Each year, Magna welcomes over 1,500 people living with physical disabilities and complex care needs, and the addition of a new Changing Places facility marks another important milestone in the continued upgrading of the popular attraction. Collaborating closely with Rotherham Council and the Changing Places Foundation, we have diligently created a safe and dignified area that supports individuals with complex care needs, offering peace of mind to carers."
The commendable effort by Rotherham Council to foster social inclusion has been led by Councillor David Sheppard, who emphasized the tremendous impact of the new facility, saying, "It's rewarding to see this new extended toilet facility open. It will vastly improve days out for many people who currently find it difficult to enjoy events with their friends, family, and carers." Changing Places toilets surpass the capabilities of standard accessible toilets, offering spaciousness and essential equipment. These hygienic, safe, and comfortable facilities ensure that disabled individuals and their carers can navigate the challenges of personal care with ease. By providing ample room to manoeuvre a wheelchair and accommodating up to two carers, Changing Places spaces enable greater independence and freedom for those with disabilities.
The Rotherham Council successfully secured an impressive £490,000 from the Government Changing Places Fund, one of the largest grants awarded to any council. This substantial amount will be instrumental in opening more of these transformative facilities throughout Rotherham, ultimately making the town more accessible and inclusive for all its residents and visitors.
The introduction of Changing Places facilities across Rotherham has garnered praise from Paul Silvester, Head Teacher at Newman Special School in Whiston. Silvester enthusiastically expressed his support for this remarkable initiative, stating, "Providing Changing Places facilities at popular leisure locations such as the New York Stadium, Magna, country parks, and Wentworth Woodhouse makes them much more accessible for our students, carers, and other visitors with similar disabilities. It is a brilliant initiative, and we welcome it so much."
In addition to the newly opened Changing Places room at Magna Science Centre and the existing one at Rotherham United's New York Stadium, several other notable locations are scheduled to receive these facilities. Clifton Park Museum, Gullivers Valley Theme Park and Resort, Rother Valley Country Park, Thrybergh Country Park, Wentworth Woodhouse, and Grimm and Co. are all part of the visionary plan to ensure that people with disabilities have equal opportunities to engage in recreational activities and cultural experiences.
The remarkable progress achieved by Rotherham Council and the Changing Places Foundation stands as a testament to the power of collaboration and the unwavering commitment to inclusivity. Through such initiatives, society takes a significant stride forward in embracing the diversity and worth of every individual, reinforcing the notion that no one should be left behind.
Editor's Comment:
The introduction of Changing Places facilities at the Magna Science Centre and other locations in Rotherham is a commendable move towards promoting accessibility and inclusivity for people with disabilities. The investment in these purpose-built facilities demonstrates a commitment to addressing the specific needs of individuals with complex care requirements. It is heartening to see organizations and local authorities working together to create safe and dignified spaces that empower individuals and provide support to their carers.
By going beyond the minimum requirements of accessibility standards, the Changing Places initiative sets a positive example for other institutions and venues to follow. The inclusion of automated doors at Magna Science Centre further highlights the importance of removing physical barriers and improving overall accessibility.
The significant funding secured by Rotherham Council from the Government Changing Places Fund underscores the recognition of the vital role these facilities play in enhancing the quality of life for people with disabilities. The council's commitment to opening more Changing Places spaces across the town sets a commendable precedent for other areas to prioritize the needs of their disabled residents and visitors.
The positive feedback from Paul Silvester, the Head Teacher at Newman Special School, echoes the sentiments of many who will directly benefit from these facilities. It emphasizes the transformative impact of inclusive infrastructure on the lives of individuals with disabilities and their ability to participate fully in society.
The rollout of Changing Places facilities in Rotherham is a step forward, but it should also serve as a reminder that there is still much work to be done in creating universally accessible environments. Continued efforts to prioritize accessibility in all public spaces will help foster a more inclusive and equitable society for everyone.