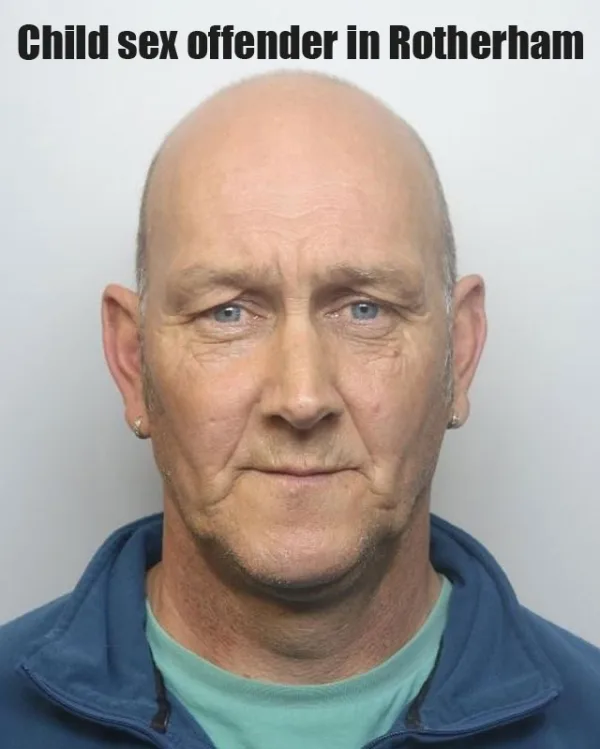 Justice Served: Perpetrator of Child Sexual Offences Receives Long Prison Sentence
In a case that sent shockwaves through Rotherham, a 54-year-old man named Andrew Wileman has been handed a well-deserved 14-year prison sentence for committing indecent assaults against two children. The victims, who will remain anonymous for their protection, endured this unimaginable abuse during the late 1990s and early 2000s.
The court proceedings revealed the disturbing modus operandi employed by Wileman. He would subject his victims to indecent assaults and then attempt to silence them with the lure of sweets, accompanied by stern warnings against revealing the truth to anyone. Thankfully, these brave individuals mustered the courage to report the heinous acts they had suffered, a testament to their resilience in the face of such trauma.
Detective Constable Emma Parsons, a member of Rotherham's Protecting Vulnerable People (PVP) team, expressed gratitude towards the victims for their unwavering support throughout the lengthy investigation and subsequent legal proceedings. In her statement, she emphasized that no child should ever have to endure such horrific experiences. She expressed hope that, with Wileman now facing a significant custodial sentence, the victims can embark on the path to healing and rebuilding their lives. Furthermore, she believes that this landmark verdict will inspire other survivors of historic sexual abuse to come forward and confide in the authorities.
The sentencing took place at Sheffield Crown Court on Monday, 26th June, where Wileman, formerly residing in Maltby but more recently in Ganesfield, Somerset, learned his fate. During the trial in March, on the third day of proceedings, he pleaded guilty to four counts of indecent assault on a child, two counts of gross indecency with a child, and one count of indecency with a child. As part of the legal process, two charges against the victims and another charge involving a third victim were ordered to lie on file, ensuring that the gravity of the crimes committed was fully acknowledged.
Additionally, Wileman will be subjected to lifelong registration as a sex offender, a necessary measure to safeguard society from any potential future harm he may pose. It is imperative that individuals who perpetrate such abhorrent acts face the consequences of their actions and remain under scrutiny to prevent the recurrence of any similar offenses.
To those who may have concerns or information related to this case or any other incidents of child abuse, the police urge you to come forward. You can contact the authorities directly by dialling 101. Alternatively, if you prefer to remain anonymous, the dedicated hotline for Crimestoppers is available at 0800 555 111. For individuals seeking advice or support, the NSPCC helpline can be reached at 0808 800 5000, while Childline offers assistance to those under 18 through their helpline at 0800 1111. Remember that the Say Something helpline, reachable via phone or text at 116 000, is also at your disposal should you require immediate assistance.
As this harrowing chapter draws to a close, the community must stand together in ensuring the safety and well-being of our most vulnerable members. May this verdict bring solace to the victims and serve as a beacon of hope for survivors of abuse, assuring them that they are not alone and that justice can prevail.
Editor's Comment
The sentencing of Andrew Wileman for his despicable crimes against children in Rotherham marks a significant victory for justice. It is important to acknowledge the bravery of the victims who came forward to report the abuse they endured, as well as the dedication of the authorities in pursuing this case to its rightful conclusion.
The details revealed during the trial shed light on the manipulative tactics employed by Wileman, who not only committed heinous acts but also attempted to silence his victims through coercion. Such predatory behaviour must be condemned in the strongest terms, and it is heartening to see the court recognizing the gravity of these offenses by imposing a substantial prison sentence.
The impact of child sexual abuse can be devastating and long-lasting, often robbing survivors of their innocence and leaving deep emotional scars. It is our hope that this verdict brings some measure of closure and the opportunity for healing to the victims involved. Additionally, the judge's decision to place Wileman on the Sex Offenders Register for life serves as a necessary safeguard to protect society from potential future harm.
It is crucial that we, as a society, rally around survivors of abuse and create an environment where they feel safe to come forward and seek justice. This case serves as a stark reminder that historic sexual abuse must not be dismissed or overlooked, and that every survivor deserves support and validation. The courage displayed by the victims in this case can inspire others to break their silence and find solace in the knowledge that they are not alone.
We must continue to prioritize the protection of vulnerable individuals and ensure that appropriate resources are available for reporting and addressing instances of child abuse. By fostering an open dialogue and encouraging a proactive response to these issues, we can strive to create a safer environment for future generations.
As this dark chapter draws to a close, we must remain vigilant and committed to preventing such atrocities from occurring again. Let us use this case as a catalyst for change, working collectively to build a society where the safety and well-being of children are paramount.