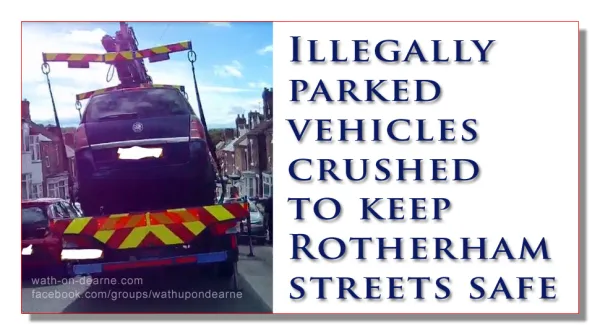 In Rotherham, the streets are no place for persistent parking offenders. A recent incident involving a Vauxhall Zafira, which had accumulated a whopping six unpaid Penalty Charge Notices (PCNs) for illegal parking, serves as a stark reminder of the consequences for those who flout traffic laws.
Since the start of the fiscal year on April 1, 2023, Rotherham's council parking enforcement officers have been on a mission to maintain road safety and ensure that disabled parking bays remain accessible to those who genuinely need them. Their weapon of choice? Impounding the vehicles of repeat offenders who conveniently neglect to settle their fines.
Councillor Denise Lelliott, the Cabinet Member for Jobs and the Local Economy, emphasized the council's dedication to safer roads and the importance of keeping them free from problematic parking. She stated, "Inconsiderate parking is not exclusive to our town or town centre, but our staff are working hard to prevent persistent offenders and tow away their vehicles. Impounding vehicles combats drivers who think they're beyond the reach of the law by not registering as the owner of a vehicle when they buy it."
For those who persist in parking illegally and find their vehicles impounded, the message is clear: pay your fines promptly, or face the ultimate consequence—vehicle crushing.
During the 2022/2023 financial year, the council impounded a total of 57 vehicles, all associated with a staggering 345 unpaid PCNs. In the year to date, 25 vehicles have met the same fate, with two of them meeting a grim end under the crusher's weight. Seventeen vehicles were fortunate enough to be released, and 111 out of 187 unpaid PCNs linked to these vehicles were settled. This stands in stark contrast to the previous year when only 14 out of 57 impounded vehicles met a similar demise.
Tracy Simmons, Manager of Parkgate Mobility in Rotherham, applauded the council's stringent approach, especially in safeguarding the integrity of blue badge parking bays. She remarked, "Many of our customers are blue badge holders, and they often say that the abuse of blue badge parking bays is a real problem. It's great to hear that the council takes this approach when drivers repeatedly breach the regulations."
Underpinning this strict enforcement is the Traffic Management Act, which allows for a vehicle to be impounded after accumulating three unpaid penalty charge notices.
It's worth noting that any surplus generated from parking enforcement efforts gets reinvested into the Council's Highways Budget, which, in turn, funds critical aspects of the borough's infrastructure, including the roads network and street lighting. Rotherham's commitment to road safety and accessible parking bays remains unwavering, and those who dare to defy the rules are met with a crushing response.