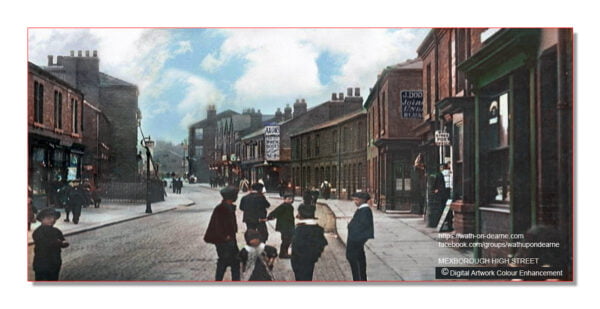 Mexborough is a town in the City of Doncaster in South Yorkshire, England situated not far from the Town of Wath-upon-Dearne.
Situated between Manvers and Denaby Main, it lies on the River Don close to where it joins the River Dearne, and the A6023 road runs through the town. It is contiguous with the town of Swinton which is directly to the southwest immediately across the railway and Conisbrough to the east.
Historically part of the West Riding of Yorkshire, Mexborough had a population of 14,750, increasing to a ward population of 15,244 at the 2011 Census.
The name Mexborough combines the Old English suffix burh, meaning a fortified place, with an Old English or Old Norse personal name, which may be Meke, Muik, Meoc or Mjukr.
Mexborough is located at the north-eastern end of a dyke known as the Roman Ridge, which is thought to have been constructed either by the Brigantian tribes in the 1st century AD, perhaps as a defence against the Roman invasion of Britain, or after the 5th century to defend the British kingdom of Elmet from the Angles.
The earliest known written reference to Mexborough is found in the Domesday Book of 1086 (Mechesburg), which states that before the Norman Conquest of England the area had been controlled by the Saxon lords Wulfheah and Ulfkil.
Following the Conquest, the area fell under the control of the Norman Baron Roger de Busli. The remains of an earthwork in Castle Park are thought to have been a motte-and-bailey castle constructed in the 11th century shortly after the Conquest.
Source: wikipedia