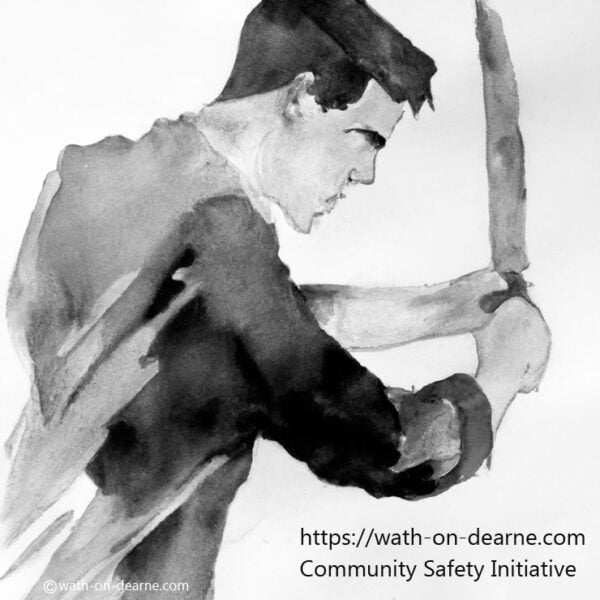 Enhanced Police Presence in Wath-upon-Dearne to Ensure Community Safety.
In response to recent incidents reported in Wath-upon-Dearne, South Yorkshire Police have made an arrest and are actively investigating the situation. A 33-year-old man from Rotherham has been apprehended on suspicion of affray after threatening individuals with a knife on Wath Road on Tuesday evening, 13th June.
To address the concerns of the local community, South Yorkshire Police have taken proactive measures to provide reassurance and maintain public safety. Superintendent Andy Wright has confirmed that an increased number of officers will be deployed in the area today, working closely with schools to ensure parents and children feel secure.
In light of recent events, it has come to the attention of the police that there were reports of an alleged stabbing of a woman yesterday evening. However, after thorough investigation and discussions with the complainant, it has been determined that no such incident occurred. The police urge the public to refrain from spreading unfounded rumors and taking matters into their own hands.
Superintendent Andy Wright issued the following statement: "I understand the high level of concern within the community, and I want to assure everyone that we are actively addressing the situation. It is crucial for individuals to avoid engaging in speculative discussions and instead, approach our officers directly with any questions or concerns they may have. We encourage the community to utilize our online portal or call 101 to share any useful information or related footage pertaining to the incident."
South Yorkshire Police have set up an online portal to facilitate the submission of information. When contacting the police, please quote incident number 527 of 14th June for reference purposes.
The South Yorkshire Police remain committed to ensuring the safety and well-being of the residents in Wath-upon-Dearne and appreciate the cooperation and assistance of the public in this matter. By working together, we can create a secure and supportive community environment.
Editor's Comment:
This press release provides an update on the recent incident in Wath-upon-Dearne and highlights the actions taken by South Yorkshire Police to address the situation. It emphasizes the arrest made and ongoing investigations while reassuring the community through an enhanced police presence. The statement from Superintendent Andy Wright urges the public to avoid speculation and directs them to report any relevant information or footage through the designated channels.
The press release maintains an impartial tone and focuses on conveying factual information and instructions to the public. It adheres to the guidelines of a professional announcement, providing necessary details without unnecessary commentary or personal remarks. Overall, the press release effectively communicates the efforts being made by the police and encourages community cooperation in ensuring public safety.