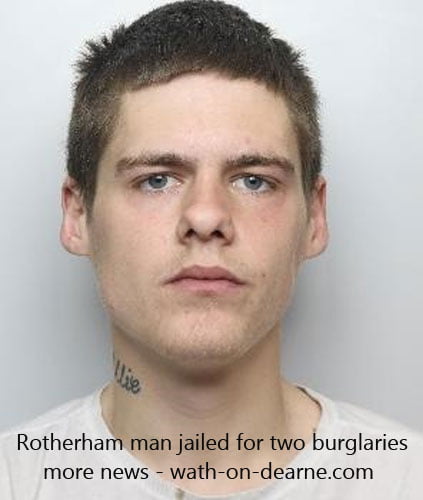 Man Sentenced to 14 Months for Burglaries After Hiding in Friend's Attic
In a recent development, a 23-year-old man from Rotherham, Jack Twigg, has been handed a 14-month prison sentence for attempting to evade law enforcement by concealing himself in a friend's attic. Twigg, a resident of Winterhill Road in Kimberworth, appeared before Sheffield Crown Court on Monday, June 19th, where he was sentenced after previously pleading guilty to two counts of burglary.
The court was presented with details of the incidents leading to Twigg's arrest. On May 9th of this year, at approximately 1:00 PM, Twigg unlawfully entered a property located on Fullshaw Lane in Barnsley. However, upon the activation of a door alarm, he promptly fled the scene without acquiring any stolen items.
Later that same day, around 5:00 PM, Twigg burglarized a residence on Scholes Lane in Rotherham, making off with a watch, a ring, and various other pieces of jewelry that held significant sentimental value to the victims.
Detective Constable Ben Lively, the lead investigator in this case, highlighted the compelling evidence against Twigg. Surveillance footage captured at both crime scenes featured clear images of Twigg, which aided in his identification by the attending officers. Furthermore, Twigg's unique choice of clothing helped the authorities link him to the crimes. Eventually, officers from the Neighbourhood Crime Team discovered Twigg hiding in the attic of an associate's residence, putting an end to his attempted evasion.
Throughout the proceedings, Twigg displayed no remorse for the distress he caused his victims. As a result, the court deemed it fitting that he should face the consequences of his actions and be confined behind bars.
The sentence serves as a reminder that the justice system is committed to holding individuals accountable for their crimes, particularly those that inflict harm on others.
Editor's Comment:
The case of Jack Twigg serves as a stark reminder of the repercussions that individuals face when engaging in criminal activities. Twigg's attempts to evade capture by hiding in an attic highlight the lengths some offenders will go to in order to avoid justice. The thoroughness of the investigation, including the use of high-quality CCTV footage and unique clothing identification, underscores the importance of modern investigative techniques in solving crimes.
It is disheartening to note Twigg's lack of remorse for the distress he caused his victims. Such indifference further emphasizes the need for a strong and effective criminal justice system that not only apprehends offenders but also ensures that they are held accountable for their actions.
The sentencing of Jack Twigg to 14 months in prison sends a clear message that burglary and other similar offenses will not be tolerated. This decision serves to protect the community and offers a measure of solace to the victims affected by Twigg's crimes.
It is crucial for individuals to remember that crime carries consequences, and this case serves as a reminder that law enforcement and the justice system are committed to maintaining public safety and ensuring that those who break the law are brought to justice.