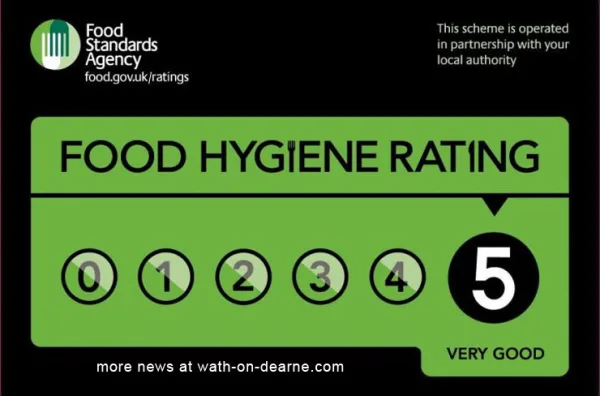 The recently published "Food Hygiene: Know the Score 2023" report reveals that food hygiene standards in the UK continue to be commendable, with slight improvements observed compared to the previous year. The comprehensive study conducted by High Speed Training, analyzed data from the Food Standards Agency, covering over 218,000 food establishments across England, Scotland, Northern Ireland, and Wales.
The report highlights that, on average, food hygiene ratings remain high nationwide. Establishments performing well benefit from a high rating, which serves as a valuable selling point. However, the report emphasizes that businesses with low hygiene ratings often deter customers, significantly impacting their reputation and profitability. Hence, it is crucial for establishments to prioritize correct food hygiene training for staff and maintain robust food management procedures and everyday good practices.
The Food Hygiene Rating Scheme, implemented through a partnership between local authorities in England, Wales, and Northern Ireland, aims to provide customers with vital information about the adherence of businesses to food hygiene and safety standards. Regular inspections are conducted to assess food handling hygiene, the condition of premises and facilities, and food safety management practices. Ratings derived from these assessments are then publicly available on the Food Standards Agency website, allowing customers to make informed choices.
Yorkshire emerged as the seventh-ranked region out of 11, with an average food hygiene rating of 4.53 across nearly 11,000 premises. Notably, Northern Ireland claimed the top spot in the national rankings. The report's findings underline the significance of maintaining up-to-date and thorough food safety and hygiene practices. Customers are encouraged to check FHRS ratings, as they provide a direct reflection of an establishment's commitment to safety and hygiene.
Dr. Richard Anderson, head of learning and development at High Speed Training, highlighted the importance of businesses' responsibility in ensuring food safety and hygiene practices. The report demonstrates that establishments upholding high standards enjoy a competitive edge, while those neglecting proper hygiene risk alienating potential customers. The findings affirm that customer's value and prioritize establishments that operate safely and hygienically, emphasizing the critical role played by food hygiene ratings in shaping consumer decisions.
Editor's Comment:
The "Food Hygiene: Know the Score 2023" report reveals the overall positive state of food hygiene standards across the UK.
It is reassuring to see that businesses are increasingly recognizing the value of maintaining high ratings as a competitive advantage. However, it is equally important to address establishments with low hygiene ratings and explore strategies to improve their practices.
The report emphasizes the role of food hygiene training for staff and robust food management procedures. It would be beneficial to further explore successful case studies of establishments that have elevated their hygiene ratings and the specific practices they implemented to achieve this.