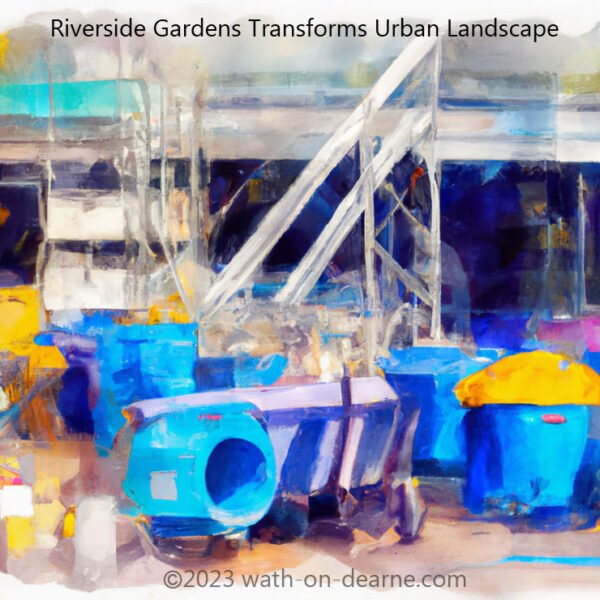 Rotherham Council has secured planning permission for an exciting new project that promises to breathe life into the town's urban landscape. The forthcoming Riverside Gardens, situated along the picturesque River Don, will serve as a vibrant public park, enriching the local community and enhancing Rotherham's town centre.
The Council's plans for Riverside Gardens are nothing short of ambitious. In addition to providing a pedestrianized walkway connecting to the Forge Island development, the park will offer a versatile public space suitable for people of all ages. By incorporating a harmonious blend of soft and hard landscaping, this visionary project aims to create a gateway to the heart of the town centre, enabling residents to forge a deeper connection with their surroundings.
The multifaceted Riverside Gardens will cater to various needs and desires. Families will delight in the inclusion of a designated play area for children, ensuring that younger members of the community have ample space to frolic and explore. Additionally, the park will feature an array of strategically placed seating, allowing visitors to unwind while basking in the serene views along the riverbank.
One key aspect of this project is its commitment to supporting local wildlife. Building on the triumph of the nearby fish pass on Masbrough weir, Riverside Gardens will contribute to the conservation efforts by providing bat boxes and a tunnelled sand martin box along the river's edge. By creating a harmonious environment that accommodates both human activity and the natural habitat, Rotherham Council demonstrates a commendable dedication to preserving the area's biodiversity.
Cllr David Sheppard, Cabinet Member for Social Inclusion, expressed his enthusiasm for the transformative power of Riverside Gardens, stating, "This project will breathe new life into an underutilized space, offering residents an opportunity to reconnect with the river and embrace the beauty of nature. As an invaluable addition to our town centre's green spaces, this park will foster a sense of community, where nearby residents can come together and enjoy the benefits of the natural world. I am delighted that our riverside, home to beloved wildlife, will soon be easily accessible and enjoyed by individuals from all walks of life."
Funding for this ambitious venture stems from the Future High Streets Fund, following the Council's triumphant bid for a substantial £12.6 million allocation toward various public realm initiatives in the town centre. Riverside Gardens, therefore, stands as a testament to the Council's commitment to rejuvenating Rotherham and promoting its economic vitality.
Moreover, Riverside Gardens forms an integral part of the broader Town Centre Regeneration Master plan, a comprehensive strategy aimed at attracting substantial investment to Rotherham's cultural and leisure quarter, as well as its town centre housing. As the park takes shape, other redevelopments outlined in the Master plan will commence, breathing new life into disused buildings overlooking Riverside Gardens. The creation of a Culture and Leisure Quarter will meet the diverse needs of Rotherham's residents, ensuring a thriving and dynamic urban environment.
Simon Moss, Rotherham Council's Assistant Director of Planning, Regeneration, and Transport, emphasized the increasing appeal of the town centre as a residential hub. He remarked, "More and more people are choosing to move into the town centre, drawn by the fantastic range of housing options available at Westgate Chambers, Milford Rise, Westgate Riverside, and Wellgate Place. As the number of residents in the town centre continues to rise, businesses thrive, and we are already witnessing new independent enterprises investing in Rotherham."
With the Riverside Gardens project poised to transform Rotherham's landscape, residents can eagerly anticipate the creation of a welcoming, nature-infused sanctuary in the heart of their town. As this visionary initiative comes to fruition, it is sure to reinvigorate the local community, foster a renewed sense of civic pride, and pave the way for a brighter, more vibrant future for Rotherham.
Editor's Comment:
The Riverside Gardens project in Rotherham exemplifies the power of urban revitalization and community-driven initiatives. By transforming an underutilized space into a dynamic public park, Rotherham Council demonstrates its commitment to creating accessible green spaces.
The integration of wildlife conservation efforts highlights the importance of balancing development with environmental stewardship. This ambitious endeavour aligns with the broader Town Centre Regeneration Master plan, attracting investment and fostering a sense of optimism.
With the influx of residents and the emergence of new businesses, the project symbolizes progress and inspires other communities in their pursuit of vibrant and sustainable urban environments.