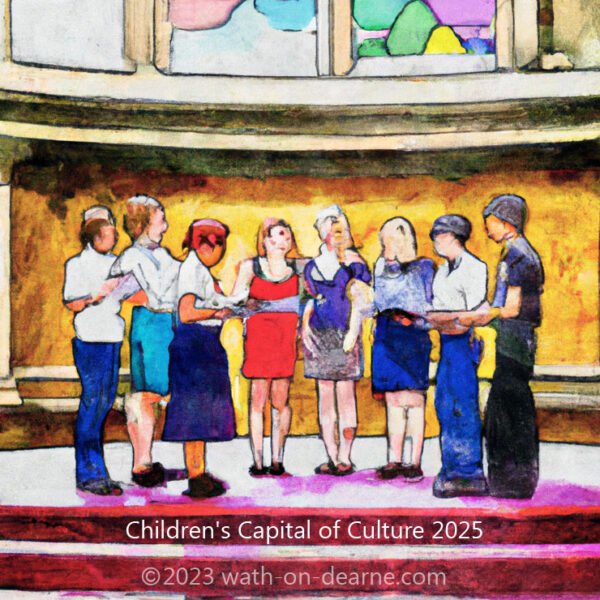 Rotherham's Youth Powering the Path to Children's Capital of Culture 2025
Rotherham's journey towards becoming the Children's Capital of Culture in 2025 has taken a significant step forward with the recruitment of 14 young individuals aged 16-25. These enthusiastic recruits are poised to play a crucial role in driving Rotherham's artistic and cultural development, as part of the borough's ambitious Children's Capital of Culture 2025 program.
The newly announced cohort of trainees will collaborate with three influential organizations in Rotherham, working alongside them to organize engaging public events and shape the future vision of their hometown. Simultaneously, these young individuals will gain invaluable skills and experiences in the creative industries, opening doors to a world of opportunities.
Among the talented recruits are Sophie Ellingham, Lottie Howe, and Maria Sofragiu, who have embarked on a one-year contract with FLUX Rotherham as Festival Makers. This dynamic team has wasted no time, diligently planning an exciting series of creative summer events. These events aim to captivate the attention of young people and marginalized groups in Rotherham, providing them with a glimpse into the transformative experience that awaits the town when it becomes the Children's Capital of Culture in 2025. Throughout this process, experienced mentors from the creative industry are providing guidance and support to help bring their innovative ideas to life.
Lottie, a 19-year-old professional footballer from Rotherham, shared her enthusiasm about the traineeship, saying, "Having recently faced redundancy, stumbling upon this opportunity was a stroke of luck. The creative freedom we have been given and the chance to work in such an environment where our opinions and thoughts hold value, in terms of making Rotherham a better place for young people like us, is truly gratifying. As a festival lover, being able to organize these events is an eye-opening experience! I'm eagerly looking forward to everything we have in store for Rotherham this year."
Furthermore, nine trainees have embarked on a 14-week training program at Wentworth Woodhouse, where they are immersing themselves in the world of advanced digital skills, photography, filmmaking, editing, producing, and acting. The training aims to equip them with the necessary expertise to curate an immersive House of Future Creative's event at Wentworth on June 21st, 2023.
Brandon, a dedicated charity volunteer, stumbled upon this incredible opportunity through a work coach, having faced disappointment in his previous 20 job applications. He expressed his astonishment, stating, "I never believed I would be in a position like this! I'm learning so much, and being a part of making Rotherham the Children's Capital of Culture is an honour. I've discovered a newfound passion for being in front of the camera and would love to pursue a career as a presenter."
Building on the success of last year's training program, three trainees from the 2022 cohort have been appointed as Engagement Assistants for the Rotherham Metropolitan Borough Council in 2023. These individuals, artist Adrian, marketing graduate Christopher, and actress Abi, have taken on greater responsibilities as they work part-time at the Council. They are actively involved in spreading awareness about Rotherham's forthcoming status as the Children's Capital of Culture in 2025. Additionally, they are delivering participatory workshops and spearheading flagship projects that aim to infuse the borough with more art and culture.
Christopher emphasized the significance of their role, stating, "We are shaping the Children's Capital of Culture ambition from the grassroots level. We, the young people of Rotherham, deeply desire this for our hometown, and we have been entrusted with the freedom to drive this vision forward."
Cllr David Sheppard, Rotherham Council's Cabinet Member for Social Inclusion, commended the trainees, stating, "The ultimate objective of the Children's Capital of Culture is to empower more children and young people across the borough, enabling them to forge a bolder, more ambitious, and creative future. This initiative aims to foster a greater sense of pride and aspiration within our community, nurturing a skilled young workforce that can genuinely shape Rotherham's future. These well-paid, sustainable, and supported roles, offering wages above the Real Living Wage, are a testament to our commitment. It is truly fantastic to have these young change-makers on board, sharing their incredible ideas, collaborating with various communities to celebrate Rotherham's talent and diversity, and equipping themselves with the skills and experiences that will ultimately enhance their life outcomes. They are a valuable asset to our team and our borough."
It is worth noting that this paid training program has been made possible through funding from the UK Shared Prosperity Fund, demonstrating the importance of investing in the creative potential of young individuals and fostering cultural growth within communities. As Rotherham continues its journey towards becoming the Children's Capital of Culture in 2025, the contributions of these passionate and talented young individuals will undoubtedly leave a lasting impact on the town and its residents.
Editor's Comment:
The recruitment of these young individuals marks an exciting chapter in Rotherham's quest to become the Children's Capital of Culture.
The article highlights their dedication, enthusiasm, and the opportunities this program offers to shape Rotherham's future. It is heartening to see the support from experienced mentors and the Council's commitment to providing sustainable roles with fair wages.
The investment in Rotherham's creative potential and the empowerment of its youth is commendable.
As we eagerly anticipate the House of Future Creative's event and the upcoming series of summer events, it is clear that these passionate individuals will play a pivotal role in transforming Rotherham into a vibrant cultural hub.