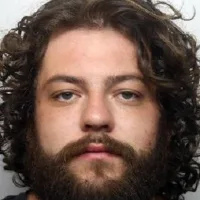 In a startling incident of crime in Rotherham, a 25-year-old local, Luke Hodgson, found himself sentenced to a substantial prison term following a brazen attempted robbery. Hodgson, residing on Clarence Street, faced the legal repercussions of his actions at Sheffield Crown Court on the chilling eve of Halloween.
The court was riveted as details emerged of Hodgson's audacious attempt. The young man had observed a woman entering her residence and, in a move that shocked the local community, decided to target her. Hodgson's approach was far from subtle – he resorted to knocking on the woman's door and, upon her response, tried to intimidate her with a large kitchen knife, demanding the keys to her car.
What followed was a testament to the courage and quick thinking of the residents. The woman, supported by her husband, managed to fend off Hodgson, pushing him out of their home and securing their safety behind a locked door. This act of bravery was highlighted by Detective Constable Jemma King, the leading officer on the case, who commended the couple for their bravery and assistance during the investigation.
The sentencing reflects a stern stance against violent crime. Hodgson received an extended sentence, totalling 10 years and eight months, for the attempted robbery. Additionally, he was sentenced to 12 months for possession of a bladed article, with both sentences to be served concurrently. Detective Constable King expressed satisfaction with the outcome, hoping it sends a clear message about the community's intolerance for violent behaviour and the commitment to put criminals behind bars.
This incident serves as a stark reminder of the perils that can lurk in seemingly safe neighbourhoods and the importance of community vigilance and cooperation with law enforcement to maintain public safety.