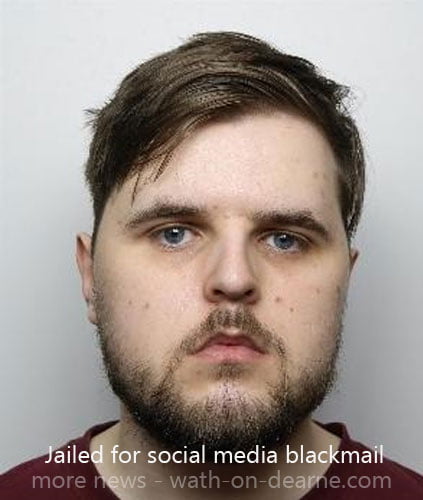 A Doncaster man has been handed a jail sentence after engaging in a series of distressing online crimes, targeting teenagers and young adults through social media platforms. Daniel Carr, a 27-year-old resident of Violet Avenue, exploited social networking sites between 2020 and 2022 to blackmail his victims, whose ages ranged from 15 to 25.
The court heard that in April 2022, Carr managed to hack into the Snapchat, Instagram, and TikTok accounts of a 17-year-old boy. Using the compromised accounts, he proceeded to send messages to numerous girls and women, coercing them into sharing explicit images. This reprehensible act was brought to the attention of law enforcement, prompting a thorough investigation that uncovered Carr's earlier offenses committed over the two-year period. During this time, he hacked into the social media accounts of multiple victims and employed threats, including demands for money, further explicit images, or sexual acts on camera, under the threat of disseminating explicit images he possessed to their family and friends.
One particularly disturbing incident involved Carr manipulating a 15-year-old girl into performing sexual acts on camera after deceiving her through a fabricated online relationship, utilizing a hacked social media account.
Detective Constable Adrian Love, the officer in charge of the investigation, described the offenses as abhorrent, causing significant distress to the victims. Carr went to great lengths to conceal his identity, utilizing multiple social media accounts in his attempts to blackmail individuals into sharing explicit images. DC Love emphasized the courage of the victims in coming forward, as their bravery was instrumental in ensuring Carr faced justice. The hope is that the imposed sentence will provide a sense of justice for the victims, enabling them to move forward and put this traumatic experience behind them.
DC Love further emphasized the severe impact of online sexual offenses against both children and adults, urging individuals to report such crimes to the police. Victims can rest assured that they will be heard, and numerous avenues of support are available. The authorities are committed to exhausting all resources to bring the perpetrators of such heinous acts to justice.
At Sheffield Crown Court on December 19, 2022, Carr pleaded guilty to a total of 16 charges, including blackmail, disclosing or threatening to disclose private sexual photographs and films with intent to cause distress, and causing a female over the age of 13 to engage in non-penetrative sexual activity. Consequently, he was remanded into custody and subsequently sentenced to six years in prison on June 16. In addition, Carr has been subjected to a sexual harm prevention order, which restricts him from committing further online sexual offenses. Furthermore, he has been placed on the sexual offenders register indefinitely.
Individuals who have fallen victim to any form of crime are urged to report the incident by calling 101 or using the online reporting system. Alternatively, information can be provided anonymously via Crimestoppers at 0800 555111 or through their website, crimestoppers-uk.org.
Support and guidance regarding online child sexual abuse and exploitation can be accessed through the CEOP website.
For advice on safeguarding your social media and email accounts to minimize the risk of hacking, please refer to our website.
Carr's guilty plea encompassed the following offenses:
Four counts of disclosing or threatening to disclose private sexual photographs and films with intent to cause distress
One count of causing a female over the age of 13 to engage in non-penetrative sexual activity
Four counts of blackmail
Three counts of unauthorized computer access with intent to commit other offenses
One count of sending a letter/communication/article conveying indecent/offensive messages
Two counts of possessing indecent images of children
One count of possessing extreme pornographic images
Editor's Comment:
This case highlights the disturbing nature of online crimes and the severe consequences they have on the victims involved.
Daniel Carr's predatory behaviour and manipulation of social media platforms to exploit vulnerable individuals is reprehensible. It is crucial that we remain vigilant and take necessary precautions to protect ourselves and our loved ones from such crimes.
The victims' bravery in coming forward played a vital role in ensuring that Carr faced justice for his actions. It is our hope that the imposed sentence brings some measure of closure to the victims and empowers them to move forward.
As a society, we must continue to raise awareness about online sexual offenses and provide support to those affected while working collectively to prevent and combat such heinous acts.