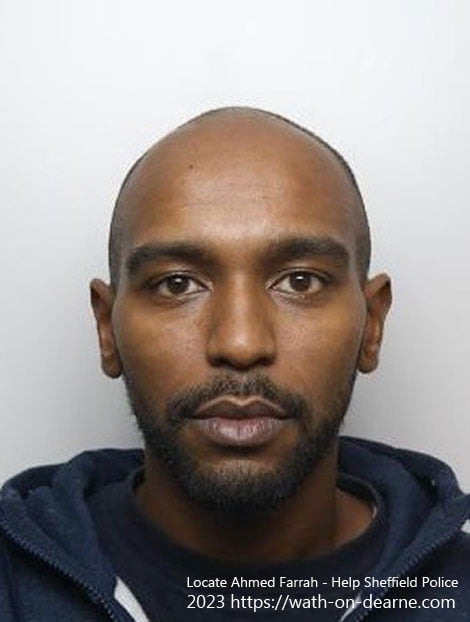 Press Release: Public Assistance Requested in Locating Ahmed Farrah
In connection with the ongoing investigation into the tragic murder of 21-year-old Kavan Brissett, local authorities are appealing to the community for assistance in locating Ahmed Farrah, also known as Reggie. Detectives have identified Farrah, aged 29, as a person of interest in relation to Mr. Brissett's murder.
The incident took place on Tuesday 14 August, near Langsett Walk in Sheffield, where Mr. Brissett suffered a fatal stab wound to the chest. Despite receiving medical attention, he succumbed to his injuries on Saturday 18 August.
Detective Chief Inspector Jude Ashmore, the Senior Investigating Officer, has stressed the importance of public cooperation in apprehending Farrah. Efforts to locate him, particularly in the Broomhall area of Sheffield where he is known to frequent, have been ongoing but have yet to yield results.
Members of the public are kindly urged to come forward with any relevant information that may aid in locating Farrah. If you have seen or spoken to him recently, or have knowledge of his whereabouts, we request that you contact the authorities promptly. In the event that you do encounter Farrah, we advise against approaching him directly but instead urge you to immediately dial emergency services at 999.
It is crucial to emphasize that anyone harbouring Farrah or assisting him in evading arrest by any means is committing a criminal offense and may face prosecution. We implore individuals who may be aiding Farrah to reconsider their actions, taking into consideration the profound grief experienced by Kavan's family. Doing the right thing and promptly notifying the police will not only assist in the pursuit of justice but also demonstrate compassion for the victims of this tragic incident.
The authorities have established dedicated channels for reporting any sightings or providing information about Farrah. If you spot Farrah, please call 999. For any other relevant information, you can reach out to the authorities by dialling either 101 or the incident room at 01709 443507 to speak directly with the detectives handling the case.
Crimestoppers, an independent charity, can also be contacted at 0800 555111. When providing information, please remember to quote incident number 827 of 14 August 2018.
By coming together as a community and cooperating with the police, we can collectively contribute to the resolution of this case and ensure that justice is served. Your assistance in this matter is greatly appreciated.
Editor's Comment:
It is important for the community to actively engage and assist local law enforcement in their efforts to locate Ahmed Farrah, who is wanted in connection with the murder of Kavan Brissett. By responding to this request for help, community members can play a crucial role in supporting the ongoing investigation and ultimately bring closure to the victim's family.
Law enforcement agencies rely on the public's cooperation and willingness to come forward with any information that may lead to the whereabouts of Farrah. It is essential that individuals, who may have seen or interacted with him recently, or have knowledge of his current location, promptly contact the authorities. Remember, your contribution can make a significant difference in the pursuit of justice.
Additionally, the reminder that assisting Farrah in evading arrest is a criminal offense serves as a stern message to those who may be inclined to aid him. Such actions not only hinder the investigation but also have legal consequences. It is crucial to prioritize the well-being of the community and support law enforcement efforts by refraining from shielding or assisting Farrah in any way.
We urge the public to remain vigilant and promptly report any sightings or information related to Farrah's whereabouts to the designated authorities. Together, we can assist in bringing closure to this tragic case and provide solace to the grieving family of Kavan Brissett.