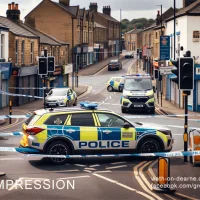 In a dramatic turn of events, the tranquility of Wath-Upon-Dearne, a picturesque town in Rotherham, was shattered. A serious road incident at the crossroads of Rotherham Road and Firth Road disrupted the evening calm on Sunday, 11 June, around half-past eight. The accident left one individual with grave injuries, sparking immediate concern and investigation.
In a swift response to this distressing occurrence, law enforcement conducted a thorough search. Their persistence paid off when they located Kallum Flowers, aged 33, who, at the time, had no permanent residence. Flowers was apprehended on Thursday, 2 November, following an intense manhunt.
The saga took a further twist the next day, on Friday, 3 November. Flowers found himself facing multiple serious charges: causing severe injuries through hazardous driving, neglecting to stop at the scene, and failing to report the incident. These allegations reflect the gravity of the situation and the law's stern approach to road safety violations.
Subsequently, Flowers was remanded in custody, his fate to be decided in the halls of justice at the Sheffield Crown Court later that day. This case serves as a stark reminder of the consequences of reckless driving and the law's unyielding stance against endangering public safety on the roads.