Fascinating Historical Photos
Henry Fords German Links
---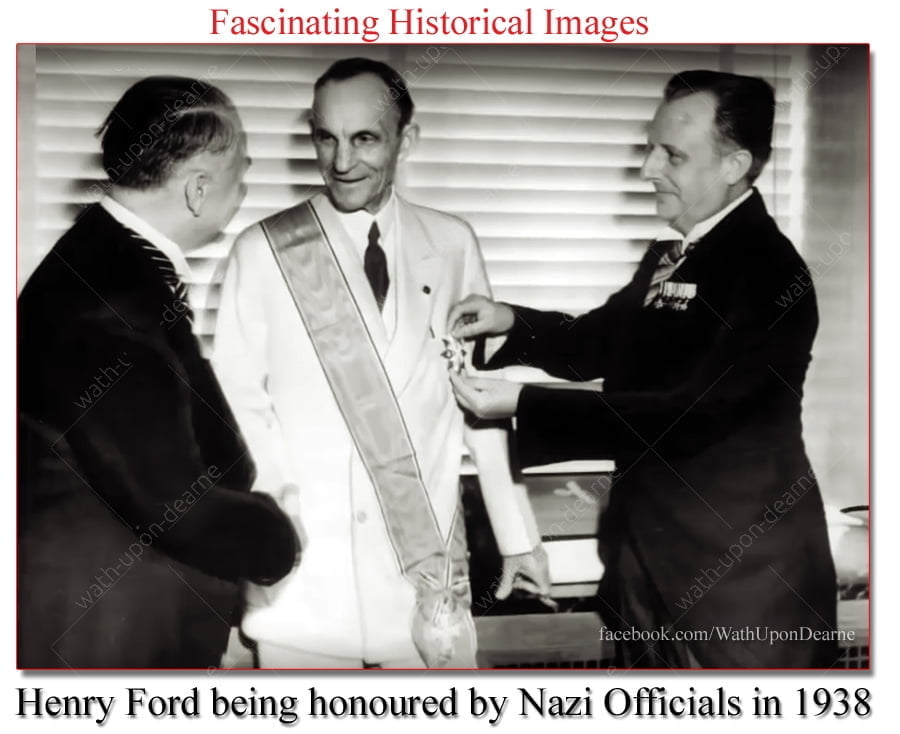 ---
The Ford company was re-organised in 1939 and changed its name to Ford-Werke.
With the outbreak of the War, car production continued at first with the Taunus being made until 1942 but increasingly military production took over. Ford-Werke built both conventional trucks and Maultier half-tracks for the German armed forces.
Most notably, Ford-Werke manufactured the turbines used in the V-2 rockets.[9] In spite of the heavy bombing of Cologne, the factory got off relatively lightly and after the war production was able to restart in May 1945 with truck manufacture, the US government having paid $1.1 million in consideration of bombing damage.
Ford factory in Saarlouis
Car making restarted in late 1948 with the Taunus. Henry Ford II visited the factory in 1948 during his visit to Germany when he was considering a purchase of Volkswagen, with which he did not ultimately proceed.
In 1952 a new Taunus appeared and this had much in common with the British Ford products and was a great success enabling record production figures to be reached. The company was now being run by Ehrhart Vitger and he spent time recruiting new dealers to replace those lost in East Germany but the company continued to rank third in sales in Germany behind VW and Opel.
Ford began to integrate the operations of its European subsidiaries in the 1960s with the launch of the 1965 Ford Transit panel van, which was a joint development between Ford of Britain and Ford-Werke, however it was the Ford Escort in 1968 that truly marked the end of unique models in European countries and followed the creation of Ford Europe in 1967 from the assets of the British and German operations but the corporate entities continue.
General Motors would later follow Ford's lead in the 1970s by integrating its Opel and Vauxhall subsidiaries into GM Europe.
---
Here is another uploaded picture from our numerous archived collections. You can SHARE all our community posts and images. Tell your friends and family to join in and be sure to post your news, events and most of all, your comments to any of the published content which is intended for everyone's enjoyment.