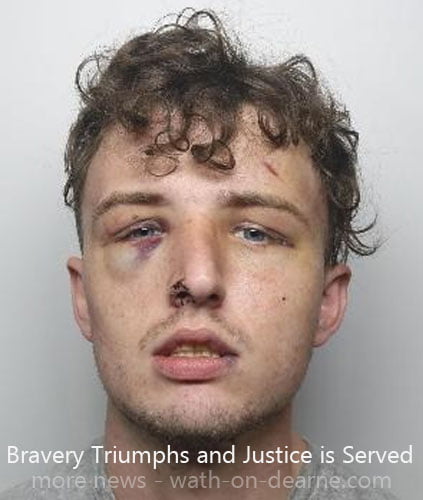 A man's despicable and violent actions have landed him an 11-year prison sentence for aggravated burglary. Joshua Deere, a 24-year-old resident of Borrowdale Close in Doncaster, appeared before Sheffield Crown Court on Friday, June 9. The charges against him stemmed from a horrific incident where he attacked a woman with a knife, wielded pint glasses as weapons, and hurled kitchen appliances while shouting menacing threats.
The victim, who displayed remarkable courage throughout the ordeal, provided crucial evidence and remained supportive of the investigation. Recounting the harrowing events of November 5, 2021, she informed officers that Deere broke a window to gain entry into a property on St. Peter's Avenue. Inside, he launched a vicious assault on her, wielding a knife at the bottom of the stairs and slicing her left arm. He continued his brutal attack at the top of the stairs, causing the victim to tumble to the bottom in an attempt to escape her assailant.
Unrelenting in his aggression, Deere pursued the victim into the kitchen, where he unleashed further violence. He smashed pint glasses over her head, threw kitchen appliances, and inflicted deep wounds on her hands with the knife. Startled by an interruption, Deere and his cohorts fled the scene, leaving the victim with severe injuries. She was promptly rushed to the hospital for treatment.
The dedicated Crime Scene Investigation (CSI) officers, aiding the investigation, made a significant discovery—Deere's blood was found alongside the victim's on a knife recovered from the property. This crucial evidence linked Deere directly to the crime scene, setting in motion a relentless pursuit to bring him to justice.
Through a public appeal, law enforcement successfully apprehended Deere, subsequently charging him with the offenses. Deere, recognizing the overwhelming evidence against him, pleaded guilty to the charges levied upon him.
PC Alex Fuller, the diligent investigating officer from the Doncaster Fortify Team, expressed his admiration for the victim's unwavering bravery. He acknowledged her tremendous courage in coming forward and ensuring that Deere faced the consequences of his cowardly actions. PC Fuller stated, "I am pleased Deere has been handed a significant sentence and will now face a lengthy time in prison. Deere subjected his victim to a horrendous and terrifying ordeal, and I hope his sentencing helps her to move on with her life."
In light of the severity of his crimes, Deere received a sentence of 11 years in prison for aggravated burglary. Additionally, he was handed a four-and-a-half-year sentence for harassment and three years for a separate burglary charge. These sentences will run concurrently, ensuring that Deere serves a considerable period behind bars for the multitude of offenses he committed.
The judiciary's decision to impose such a substantial sentence reflects the gravity of Deere's actions and serves as a testament to the importance of holding perpetrators accountable for their crimes. The victim's bravery and the collective efforts of law enforcement have resulted in justice being served, bringing some measure of closure to this traumatic chapter in her life.
Editor's Comment:
This horrific incident serves as a chilling reminder of the dangers lurking within our communities. The perpetrator's ruthless and violent actions have rightfully landed him a significant prison sentence.
It is crucial to commend the bravery of the victim, whose resilience and cooperation throughout the investigation played a pivotal role in ensuring that justice prevailed. This case highlights the importance of supporting and empowering survivors of such heinous crimes while reaffirming society's commitment to holding offenders accountable.
The comprehensive sentence handed down by the court sends a clear message that acts of violence will not be tolerated, and our communities will stand united against such atrocities.