Fascinating Historical Photos
Fort Worth USA Bomber

---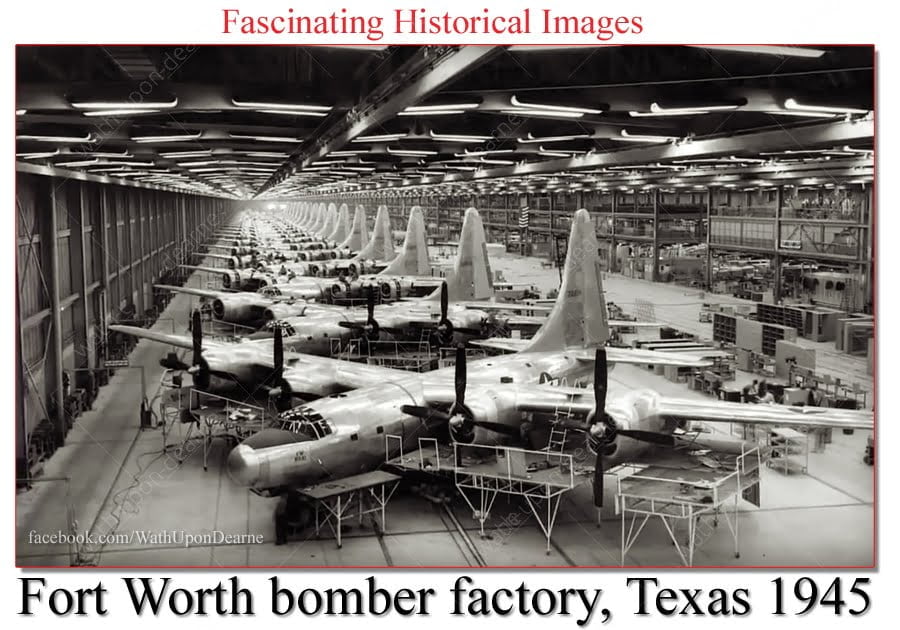 ---
Fort Worth was the manufacturing base for the WW2 acclaimed USA B-24 Liberator Bomber.
The B-24 Liberator was first proposed to the Air Corps in 1938, and with the start of World War II in Europe, the French Government placed an order for 60 aircraft, sight unseen. In 1940, Britain ordered 164. These large foreign orders were placed well before the US military placed similar-sized orders, and played a large role in getting the B-24 project going.
In order to meet the projected demand for the B-24, in early 1941 the government established the Liberator Production Pool Program. Under this program, Consolidated would produce Liberators at the new plant in Fort Worth to supplement the B-24 production in its main San Diego plant. Sub-assemblies and components of B-24Ds would first be sent to Fort Worth and assembled from smaller plants until Fort Worth could produce the complete aircraft.
Three designations of the Liberator, B-24D, B-24E, and B-24G would be flown to Fort Worth from Consolidated production lines in San Diego, Willow Run, Michigan and North American Aircraft in Dallas.
At Fort Worth, the aircraft would be processed though what was called a "modification center" where the aircraft would be updated with the latest modifications before being turned over to the Air Force and flown out from the Fort Worth Army Airfield, which it shared a common airfield with. Over 3,000 B-24 aircraft were manufactured, assembled and modified during the war.
In February 1943, the Army directed Consolidated to shift its production of the B-32 Dominator very heavy bomber from San Diego to Fort Worth, to streamline PBY Catalina production in San Diego for the Navy. The B-32 program, however, was beset with technical problems and by the end of December 1944, only five aircraft had been delivered. In comparison, the B-29 Superfortress had been in combat for nearly six months. Before the program's termination in September 1945, only 124 B-32s were produced in Fort Worth.
---
Here is another uploaded picture from our numerous archived collections. You can SHARE all our community posts and images. Tell your friends and family to join in and be sure to post your news, events and most of all, your comments to any of the published content which is intended for everyone's enjoyment.