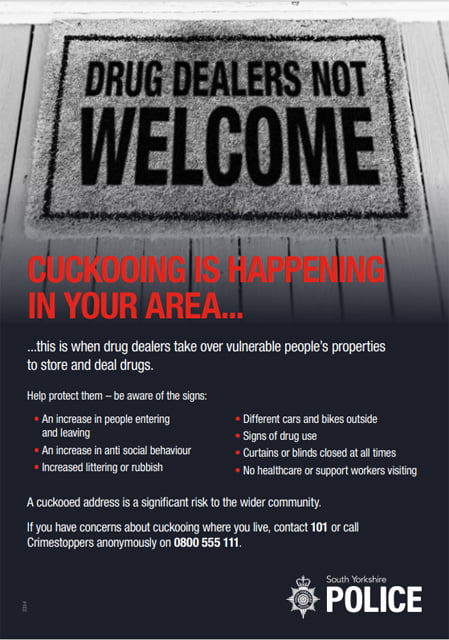 Can you spot the signs of cuckooing?
Would you know if your neighbour is being exploited by criminal gangs?
Would you be able to tell if your loved one is being exploited?
Spotting the signs of cuckooing is a role all of us have a part to play to protect those who are most vulnerable in society.
Cuckooing is the term used to describe gangs targeting the homes of vulnerable people, taking control of the property for criminal activity.
There are different types of cuckooing:
• Using the property to grow, deal, store or take drugs
• Using the property for sex work
• Using the property to store weapons
• Taking over the property as a place to live
• Taking over the property to financially abuse the tenant
Offenders are particular in who they target, deliberately seeking out people who are vulnerable. This can include existing drug users, people vulnerable due to their age, care leavers, sex workers, single mums, or those suffering from mental or physical health problems.
If you notice someone you know display the following behaviours, raise the alarm.
• The person often goes missing from school or home
• Unexplained cash, phones, or clothes
• Relationships with older individuals or groups who are controlling
• Excessive phone calls or taxis
• Leaving home or care without explanation
• Physical injuries or assaults
• Concerns regarding the above from parents, carers, or teachers
Chief Inspector Leanne Dean adds: "Cuckooing not only has a detrimental impact on the victim, but it can also cause a rise in anti-social behaviour in your area.
"It's important everyone understands the signs to spot so we can safeguard those who are vulnerable and ultimately disrupt the work of the organised criminal gangs and bring them to justice."
You can contact the police on 101, or if you feel they are in immediate danger, contact 999. Alternatively, if you prefer not to give your personal details, you can stay anonymous and pass on what you know by contacting the independent charity Crimestoppers.
Call their UK Contact Centre on freephone 0800 555 111 or complete a simple and secure anonymous online form at Crimestoppers-uk.org