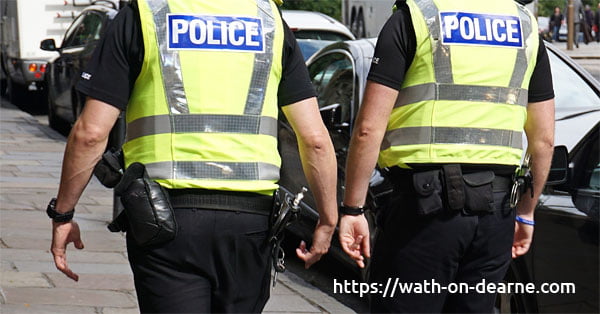 South Yorkshire Police has become the first force in the UK to establish a Joint Investigation Team (JIT) with law enforcement agencies in Albania, in a partnership investigation that saw two dangerous individuals jailed.
Officers from our Modern Day Slavery and Serious and Organised Crime Vulnerability Teams teamed up with Albania's Special Anti-Corruption Structure (SPAK) in a national first that saw the two agencies collaborate with one another to tackle serious organised crime.
As a result, at Sheffield Crown Court last week, 39-year-old Lithuanian Valdemaras Kasinskas and 27-year-old Albanian Andi Alushi were jailed for holding two men captive in a house in Sheffield.
You can read more about the pair's sentencing here.
Detective Chief Inspector Mark Oughton, who led the investigation, said: "We knew very early on in our investigation that this case was going to require international collaboration, given that the victims were from Albania and had potentially been trafficked into the UK to be exploited, and the suspects were from
"Initial enquiries revealed that the victims had been held and abused in a bid to extort money from their families, who were still in Albania.
"It was evident that we were looking at serious organised cross-border criminality and so, working with the Complex Case Unit of the Crown Prosecution Service, we approached The Hague for authorisation to carry out enquiries in Europe and to ask Lithuanian and Albanian law enforcement for their help.
Sat within The Hague is Eurojust, the European Union Agency for Criminal Justice. Their role is to help coordinate the efforts of police and other agencies working internationally to tackle serious organised crime.
DCI Oughton continued: "Eurojust's support was truly invaluable to our investigation – we were able to travel to Lithuania and Albania to carry out essential enquiries. With their coordination, we were able to establish the UK's first JIT with Albania's Special Anti-Corruption Structure (SPAK).
"What this essentially meant was that we could travel to Albania and follow up vital lines of enquiry, which is what we did.
"Working with the National Crime Agency, the Albanian Embassy, SPAK and the Foreign Law Enforcement Community (FLEC), we were also able to speak with the victims' families and understand the impact that Kasinskas and Alushi's crimes had had on their lives.
"This was a true partnership effort and it has been a privilege to work so closely with the Albanian Embassy, SPAK, FLEC and Eurojust."