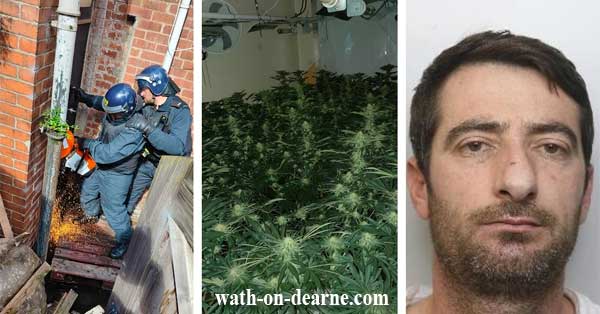 A 31 year-old man has been sentenced to time in prison as the crackdown on cannabis cultivation in Rotherham continues.
Sokol Shabani, of no fixed address appeared before Sheffield Crown Court for sentencing last week (29July) after officers from the Tactical Support Group and Sheffield and Rotherham Neighbourhood Teams executed a warrant at a former jewellers in Rotherham.
On 8 June 2022 officers entered a property on Effingham Street in Rotherham Town Centre after intelligence led them to believe it was being used to cultivate cannabis.
Once inside, over 300 Cannabis plants were recovered from six large rooms. Officers arrested and charged Shabani with production of class B drug.
This sentencing is a positive result of the work on-going in Rotherham as part of the Operation Grow initiative; a 'Safer Rotherham' partnership approach with Rotherham Metropolitan Borough Council (RMBC) to identify and dismantle cannabis farms.
Since the launch of Operation Grow in 2021, just under a 100 warrants have been executed and 11,053 plants have been recovered with a £11 million pound street value.
Temporary Sergeant Matt Smith explains more, he said: "Cannabis farms can significantly impact the quality of life of local residents and businesses, as well as often being linked to organised crime and the exploitation of vulnerable people, who are forced to mind the farms on behalf of gangs.
"Those who are being exploited need our help. By working with our communities we are able to ensure victims are protected and those responsible are prosecuted.
"We continue to urge the public to report concerns to us, and look out for the signs a property is being used to grow drugs.
"You can report online via the SYP website, speak to a local officer, call 101 or speak anonymously via Crimestoppers."
To report intelligence online please visit https://smartcontact.southyorkshire.police.uk/
Shabini was sentenced to 18 months in prison and £250 which was taken from him during arrest has been subject to a forfeiture order by the judge, the money will be used for further operation grow purposes.
[catlist name=Latest News]