Fascinating Historical Photos
Hitler Photograph – Rare

---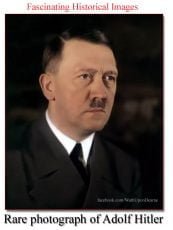 Adolf Hitler; 20 April 1889 – 30 April 1945) was a German politician who was the leader of the Nazi Party (Nationalsozialistische Deutsche Arbeiterpartei; NSDAP), Chancellor of Germany from 1933 to 1945 and Führer ("Leader") of Nazi Germany from 1934 to 1945. As dictator, Hitler initiated World War II in Europe with the invasion of Poland in September 1939, and was central to the Holocaust.
Hitler was born in Austria—then part of Austria-Hungary—and was raised near Linz. He moved to Germany in 1913 and was decorated during his service in the German Army in World War I. In 1919, he joined the German Workers' Party (DAP), the precursor of the NSDAP, and was appointed leader of the NSDAP in 1921. In 1923, he attempted to seize power in a failed coup in Munich and was imprisoned. While in jail he dictated the first volume of his autobiography and political manifesto Mein Kampf ("My Struggle").
After his release from prison in 1924, Hitler gained popular support by attacking the Treaty of Versailles and promoting Pan-Germanism, anti-semitism and anti-communism with charismatic oratory and Nazi propaganda. He frequently denounced international capitalism and communism as being part of a Jewish conspiracy.
---
Here is another uploaded picture from our numerous archived collections. You can SHARE all our community posts and images. Tell your friends and family to join in and be sure to post your news, events and most of all, your comments to any of the published content which is intended for everyone's enjoyment.