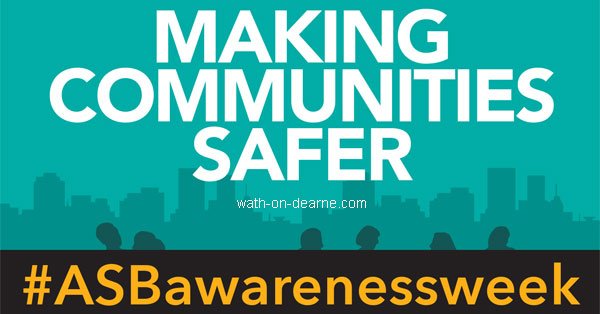 Date published: July 23, 2022 10:48:40 AM
#wathupondearne
ASB Awareness Week: What is a Community Trigger and how can I activate one?
Since Monday (18 July), we have been reminding people what anti-social behaviour (ASB) is, and what to do should you unfortunately become a victim.
We have been doing so as part of Anti-social Behaviour Awareness Week, a national campaign to encourage communities to take a stand against ASB and highlight actions that can be taken by those experiencing it.
It has been organised by Resolve, the UK's leading ASB and community safety organisation, and was backed by organisations nationwide including police forces, councils, housing associations, charities, community groups and sports clubs.
Having looked at different forms of ASB, who you should report instances to, and the work ourselves and partners are putting in place to protect communities, today we are flagging up what to do if you don't feel your situation has been dealt with appropriately.
If this is the case, you can request a Community Trigger be implemented.
A Community Trigger is a South Yorkshire Police process where a member of the community can request a review of their case to ensure a group of agencies have provided an appropriate response to the reported ASB.
The Community Trigger is designed to ensure agencies work together to investigate how your case was dealt with. We do this by talking about the problem, sharing information where required and acting together to reach a satisfactory conclusion.
Any Community Trigger requests within South Yorkshire take into account both the nature of the reported incidents and the number of incidents experienced. As a victim, you have to have reported three separate incidents relating to the same, or a similar, issue within a six-month period. The most recent incident should be no more than a month old.
Alternatively, if five different households have separately reported the same issue within a six-month period, the Community Trigger threshold has also been met.
There are three ways to trigger this. You can complete the online form on this website, call 101, or download and print out the form to hand in to your local police station.
You will need to provide details of each time you have contacted a relevant agency, who you contacted – name, organisation and/or incident reference number – and the information about your complaint. If you do not have this information, please provide as much information as possible to allow detailed enquiries to be made.
Chief Inspector John Mallows, SYP's force thematic lead for ASB and criminal damage, said: "We believe that this is an important measure to have in place to help people who feel exasperated at incidences of ASB in their area.
"We understand that waiting for investigations to be completed can sometimes feel frustrating. But we assure you everything is being done behind the scenes alongside our partner agencies to reach a suitable outcome.
"If you feel your case is not being handled appropriately, and you do want to flag it up for attention, then please make use of this method."
It is important to note the Community Trigger does not replace the complaints procedures within individual organisations and should not be treated as such.
If you are unhappy with the way a case has been handled, you can still let South Yorkshire Police know here.
Yorkshire Photography
[catlist name=Latest News]