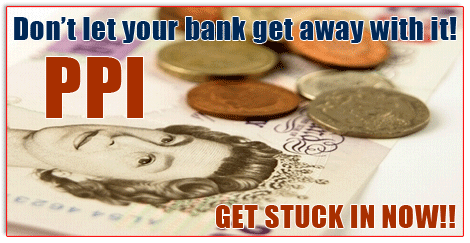 This is urgent for everyone who's had a loan, credit or store card, catalogue account or car finance in the past. Claims are being paid out as far back as late eighties so DO NOT BE AFRAID TO PUSH YOUR CLAIM WITHOUT ANY FURTHER DELAY.
The regulator's announced plans for a time-bar on claims, so check NOW if you were flogged worthless PPI – and if you were rejected before and didn't go to the Ombudsman, try again.
Claiming yourself is not really all that hard. Usually a one page submission is all it takes to start the ball rolling.
If you were with the Yorkshire Bank in Wath-upon-Dearne, download this one page form and take it to the Branch counter. Don't sign it, the clerk will want you to sign it at the counter. Then it will be photocopied and emailed on your behalf to the head PPI department dealing with all complaints. Keep the copy you are given and don't forget to ask the clerk to stamp it with the official bank marker.
DOWNLOAD YORKSHIRE BANK 1 PAGE FORM HERE
Never pay a claims handler 30% – you can easily reclaim £1,000s for free yourself. There is a step-by-step guide on how to join the millions who've had over £20bn of PPI premiums refunded, including free PPI complaint templates, how to deal with an offer and how to re-open a complaint.
DID YOUR BANK UNDERPAY YOU – READ THIS
More good helpful information HERE
Post expires at 7:57am on Wednesday January 31st, 2018