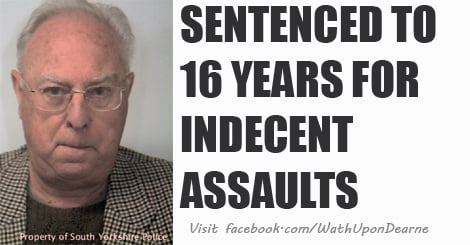 ---
News: Latest – distributed around Yorkshire February 08, 2017 12:38:56 PM
An 81-year-old man has been sentenced to 16-years in prison after admitting indecently assaulting five victims in Sheffield.
Roger Dodds, of Cotswold Road, Sheffield, appeared before Sheffield Crown Court today (Friday 3 February) to receive his sentence after admitting four counts of indecent assault on a man aged 16 or over and one count of indecent assault on a boy aged under 14 years in earlier court hearings.
The charges relate to five separate victims, who cannot be named for legal reasons.
Investigating officer Detective Constable Stephen Howson said: "Today marks the culmination of a lengthy police investigation into Dodds' sexual abuse of multiple victims, which spanned the 1970s to 1990s.
"Our inquiry began in 2014, after we received information from one victim who bravely reported sexual abuse to the NSPCC.
"We launched an investigation, which lead to the discovery of other victims of Dodds' sexual offending.
"I hope the positive result at court today encourages other victims of sexual abuse to come forward and talk to someone. We will always investigate reports of this nature and will do whatever we can to bring perpetrators of this crime before the courts.
"If there are other victims out there who are yet to come forward, please know that we are here to listen and support you."
Post expires at 4:16pm on Tuesday March 21st, 2017